Swedish gaming company launches family-friendly mobile game to promote physical activity & reduce stress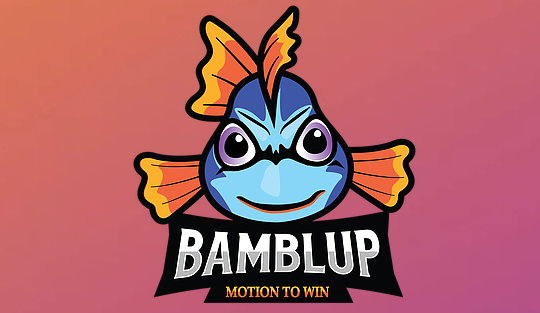 First & Ten, in cooperation with Cybercom Group, has just released Bamblup: Motion to Win, an augmented reality mobile game for iOS designed to promote physical activity and benefit mental well-being among children and young adults. Bamblup: Motion to Win guides users through high-intensity interval training that's gamified.
Now, more than ever, it's important for young people to find ways to exercise, even if they don't leave the house. According to the World Health Organization (WHO), 80% of today's adolescents are not active enough. An inactive lifestyle, where a person spends most of their time in sedentary activities, has been cited by many medical experts and groups as detrimental, both physically and mentally. First & Ten wants to help change this unhealthy trend by creating mobile games that benefit users' bodies and minds. ​ 
In the game, players' surroundings are transformed by augmented reality into the paradise-like underwater world of ​ Bamblup Island. Is it peaceful? Not so much. Evil cyborg fish, known as the Svartanians, are intent on destroying Bamblup Island. Players fight off the Svartanian by walking, squatting, running in place, or jumping. There are also side quests to find treasure and magic under the sand. 
"Today's youngsters are already the most inactive in history," says Leslie Alfredsson, Founder, and CEO of First & Ten, "but now with social distancing and quarantine measures due to the coronavirus crisis, their levels of physical inactivity have increased dramatically." Alfredsson explains that First & Ten was already working on interactive ways to get today's youth to be more active, but that mission is now more important than ever. 
"We chose high-intensity interval training because according to specialists it is the most effective way to decrease stress and improve physical conditioning," says Alfredsson. "And we developed Bamblup with the help of physiotherapists and other health specialists in Sweden. We also wanted to make a game that uses new technology, like augmented reality, but takes it a step further and creates a completely immersive experience, more like handheld virtual reality."
According to Alfredsson, work on Bamblup: Motion to Win began in 2018. ​ In 2019, the game helped First & Ten win recognition as one of the most innovative startups at the Ideon Innovation competition. 
About First & Ten AB
Based in Malmö, Sweden, First & Ten is a gaming studio that creates augmented reality games to promote personal well-being through entertainment. Its mission is to change how traditional mobile games are designed to promote physical activity. First & Ten has received funding from the European Union through its Cross4Health project, as part of the Horizon 2020 Fund, and the Cybercom Group. It's also part of the Nordic startup accelerator Impact Startup, as well as the business incubator Ideon Innovation in Lund.
About Cybercom Group
Cybercom is an IT consulting company that enables companies and organisations to benefit from the opportunities of the connected world and to enhance their competitiveness. By combining technical edge and strong business insight, Cybercom provides innovative and sustainable solutions.
Related Links